* My Other Feedback :o)
https://www.etsy.com/shop/NYMArts?ref=shop_sugg#reviews
Keep your eyes on the Senior Ads on TV. My shades are showing up :o)
April 22, 2022
Ooh yessss ! ! Love it, Nan! ❤
Perfect !
Melissa
Custom Canopy Shade (My Invention) in Silver Mica
Fitted specifically to her base.
April 20, 2022
Guess what !
It arrived and in great shape ! ! ! I love it ! ! !
Your work is just amazing, and you should feel proud of that ! ! !
Beth
(photo to come)
April 19, 2022
Hi Nan !
It looks great, just perfect, and authentically mastered !
Love it, thank you so much !
Dave
April 14, 2022
Nan,
Shade arrived in perfect condition and is now
ensconced on our floor lamp.
We love it!
Thanks, Jerry
February 15, 2022
Great news - it arrived, looks lovely. Usps is apparently none the wiser.
Thank you!
Rebecca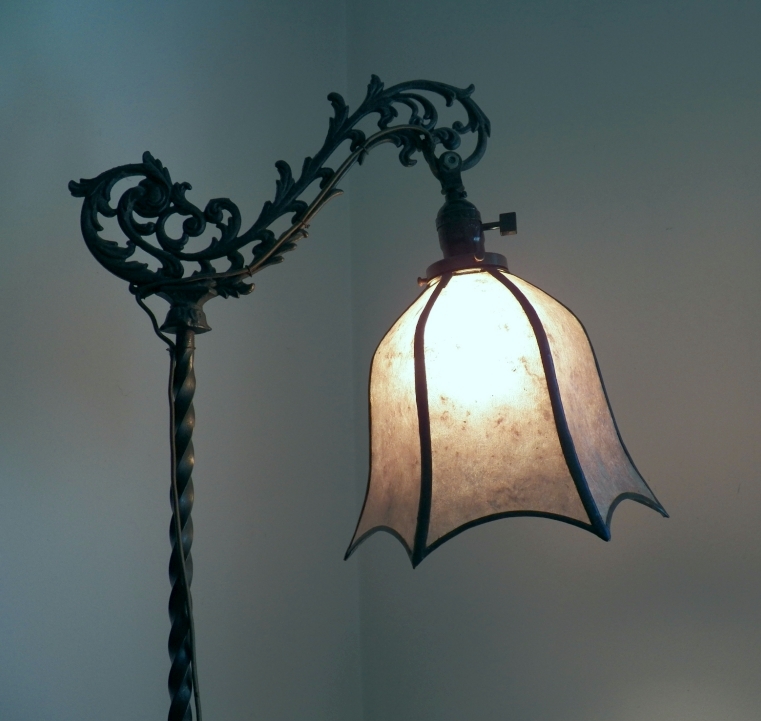 Jan. 22, 2022
Nan,
So, just wanted to let you know the shade arrived today.
Absolutely gorgeous...I'll send you pictures of it on a
couple different lamps that I've rebuilt.
Take care,
Keith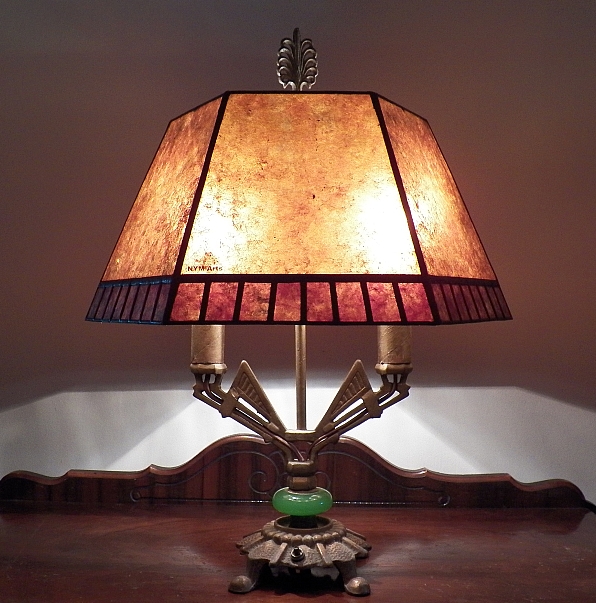 December 15th, 2021
The beautiful shade arrived this morning and I absolutely love it!!
Thank you SO MUCH! And I got the Shipping Overage Refund, too. Thank you!
I can't wait to show off the lamp to my family.
Laurie Beck
My Tulip Fitter Shade :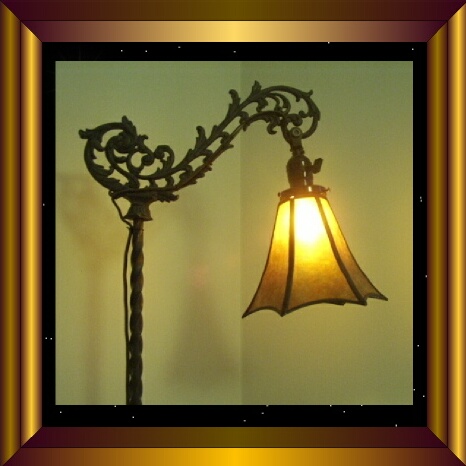 December 7th, 2021
Good morning,
We received the 2nd shade that we've ordered from you, and it is fantastic. We couldn't be happier.
Thank you!
Have you considered creating a Christmas shade? We'd love to be able to change one of our shades to a
Christmas-themed shade in December.
Thanks again,
Rick and Katie
My Church Arch on Silver Mica UNO Shade :
November 12, 2021
The globe is BEAUTIFUL!!! Thank you so much! ♥
Nicki F.
My Lotus Flower Fitter Shade
Pictured in Natural Amber with Silver Petals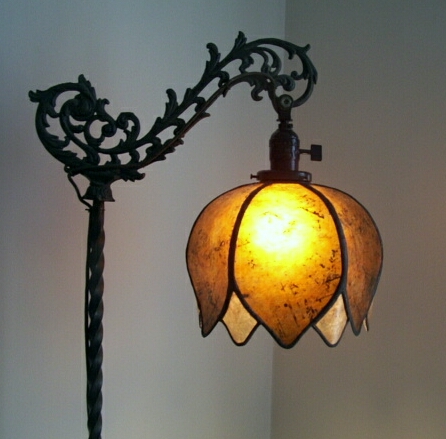 October 16, 2021
Nan, your shades came yesterday and they are BEAUTIFUL.
True artistry. Thank you so much for your work,
patience and obvious love of what you do.
Couldn't be more pleased.
Thank you again,
~ John B.
My Tulip Fitter Shade :
Pictured in Silver Mica
September 21, 2021
Hi Nan-
Thanks for the Shipping Overage Refund.
The shade is part of a gift I'm giving to an elderly, long term client
(24 years) of mine. She's basically a shut-in and I've always noticed a
beautiful but dirty bridge lamp stuck in a random corner of her apartment.
Never once was it turned on and it had an ugly fabric shade of the wrong
style that just drove me nuts. It was a crying shame to see this beautiful
piece not being used or appreciated.
Well, she moved into a new and modern apartment after being 27 years in her
old place. As a gift to her, I cleaned and rewired the lamp and knew, from
previous internet searches, about your business. This shade is perfect for
the lamp and for who she is.
I'll be seeing her later this afternoon for her next massage and will be
presenting her with her refurbished lamp. I'm thrilled about today's
visit and gift.
Thanks for being a huge part of it.
Ed
Plain UNO Hex in Dark Amber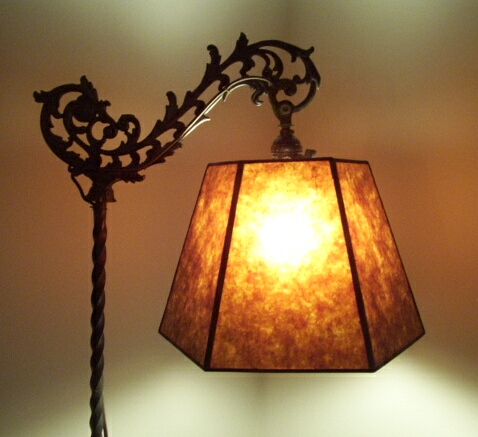 Aug. 27, 2021
Nan, THANK YOU!!!! Absolutely beautiful work I could not be happier and a
special thank you for the speedy delivery and Shipping Overage Refund.
I am over the moon.
Andrea
4 Custom Barrel Shades : 1 washer spider and 3 EURO barrel shades....
Aug. 25, 2021
Dear Nan,
The shades arrived today, as beautiful as I expected!
Thanks for refunding the shipping overage - that's a rare kindness!
Best,
Olivia
2 Lotus Flower Fitter Shades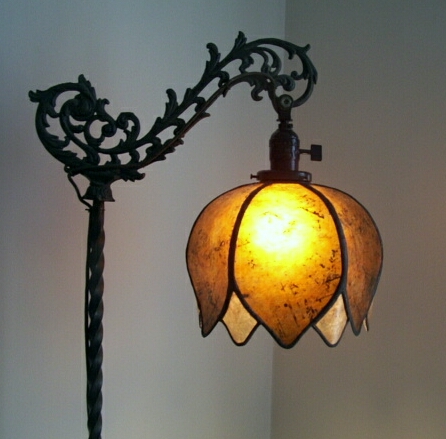 July 16, 2021
Hello Nan,
We received our shade and it is stunning. Just perfect and well made. You outdid yourself on packaging and shipping also.
We had no idea it would come this quickly.
Thank you ever so much. Very nice doing business with you.
Oh Nan, almost forgot to mention the shipping refund amount. Yes I did open Carefully and found it there.
Thank you
Tom and Sarah
My Tulip Fitter Shade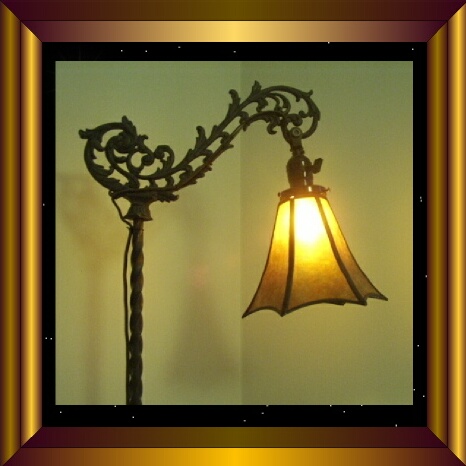 July 13, 2021
Hi Nan,
As I expected, your lampshade is absolutely beautiful on my circa. 1915 Roseville Pauleo lamp.
You do exquisite work. I am amazed at how strong and substantial that the shade is compared
to other mica shades I have seen. There is absolutely no comparison. You are a true craftsman.
I look forward to purchasing my next lamp base and having you craft something exquisite for it as well.
Well done!!!!!!!!
My warmest regards,
Bill
My Custom Mushroom 14 Table Shade in Light Amber :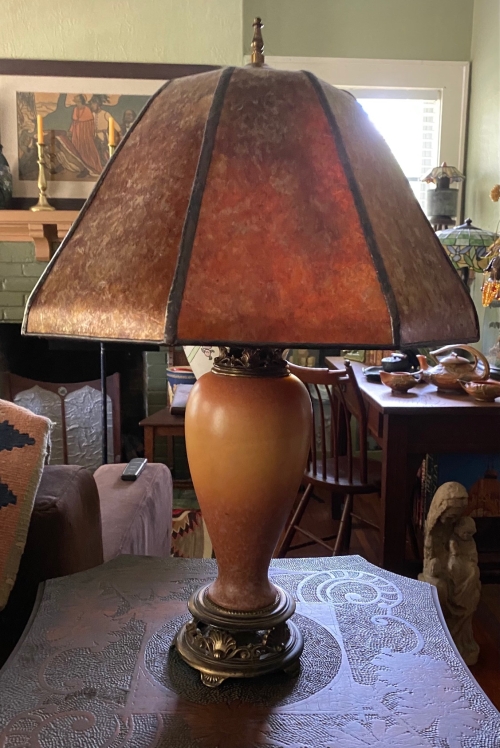 July 11, 2021
Hello,
From what I've gleaned from the internet I think that Ms. Nancy Merte designed and built my beautiful mica lamp shade
that has brought my beautiful Art Nouveau Deco lamp back into my life. It's always been with me since I bought it in
Longmont, Colorado in 1977 for $20. It has traveled with me around the country since, but about 10 years ago the existing UNO lamp shade disintegrated.
Now it resides in my living room giving me the warmth it was always meant to bring from over a century ago.
Thank you and please enjoy the photo.
Sincerely,
Danny Shobe,
Warsaw, VA
My Scalloped 8 Sided Fitter Shade in Light Amber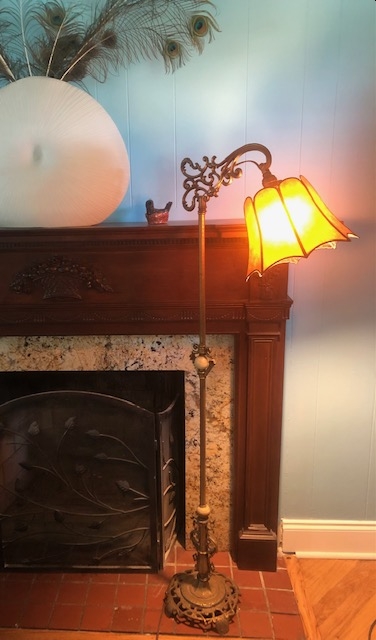 July 9, 2021
Thank you Nan, it's gorgeous & we absolutely love it!!
Rebecca R.
My Scalloped Hex Fitter Bell in Silver Mica.
June 23, 2021
Thanks, I received it today and it's perfect. I appreciate the craftsmanship.
David J.
My Hex Fitter Bell & Socket Set
June 12, 2021
Hi Nan,
I received the lamp and shade. Love them. They work well with my décor.
Thanks so much,
W.
June 1, 2021
Dear Nan,
Here it is on one of my lamps. Hard-to-find ornate solid brass/bronze.
I don't know if the African bells/ball chain will stay. (They need work.)
Looking to add bits of pyrite crystral (fools gold) on the chandelier tips.
We'll see.
My sister gave me another pair of lamps to 'do'.
May order more shades from you this week, but not solid on this yet.
Later,
Kaz
My Flat Top Butternut in Silver Mica with Decorative Corners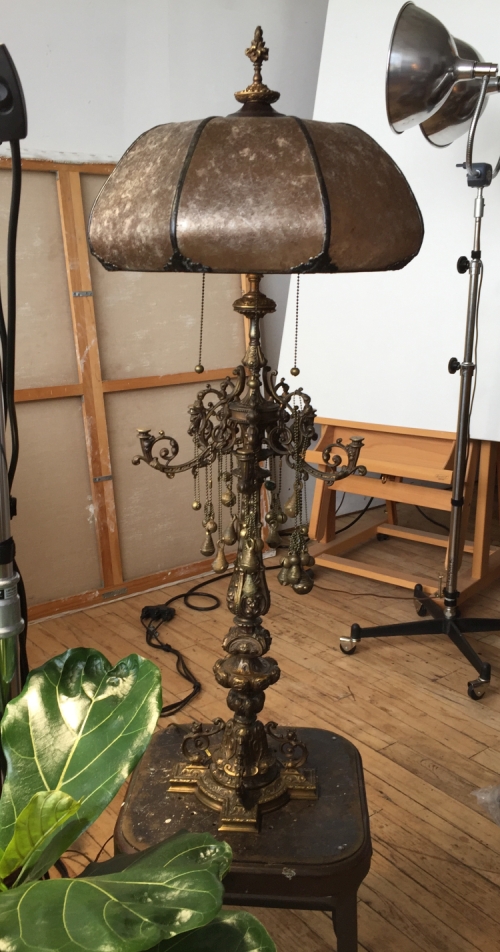 May 28, 2021
Nan -
This shade is specTACular.
I was anticipating something beautiful but, WOW, just WOW!
Thank you so VERY much!
Reggie
Reggie's own design on my Silver UNO Hex :o)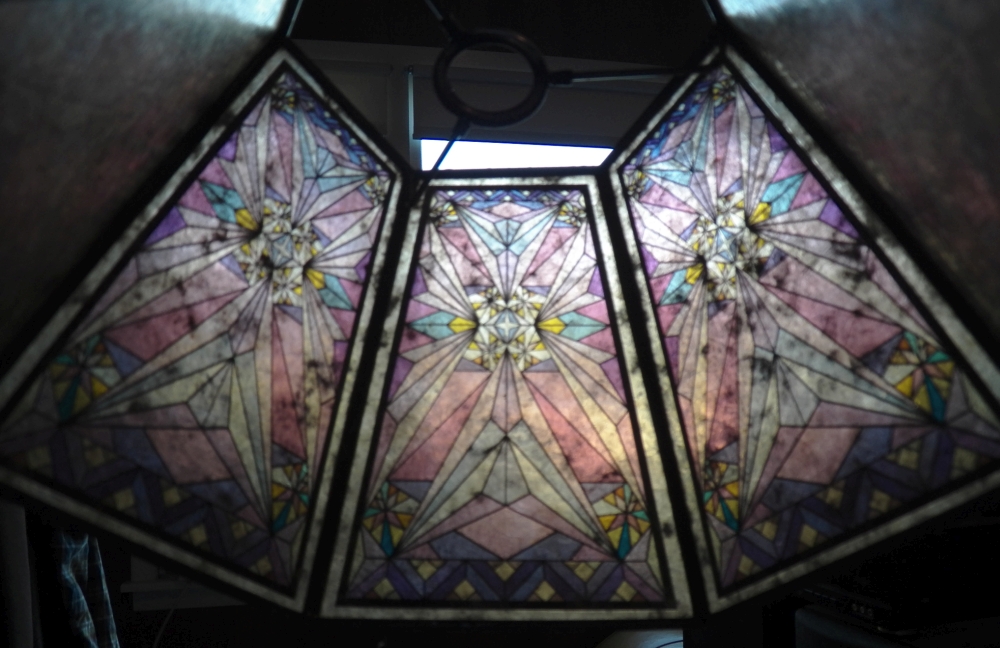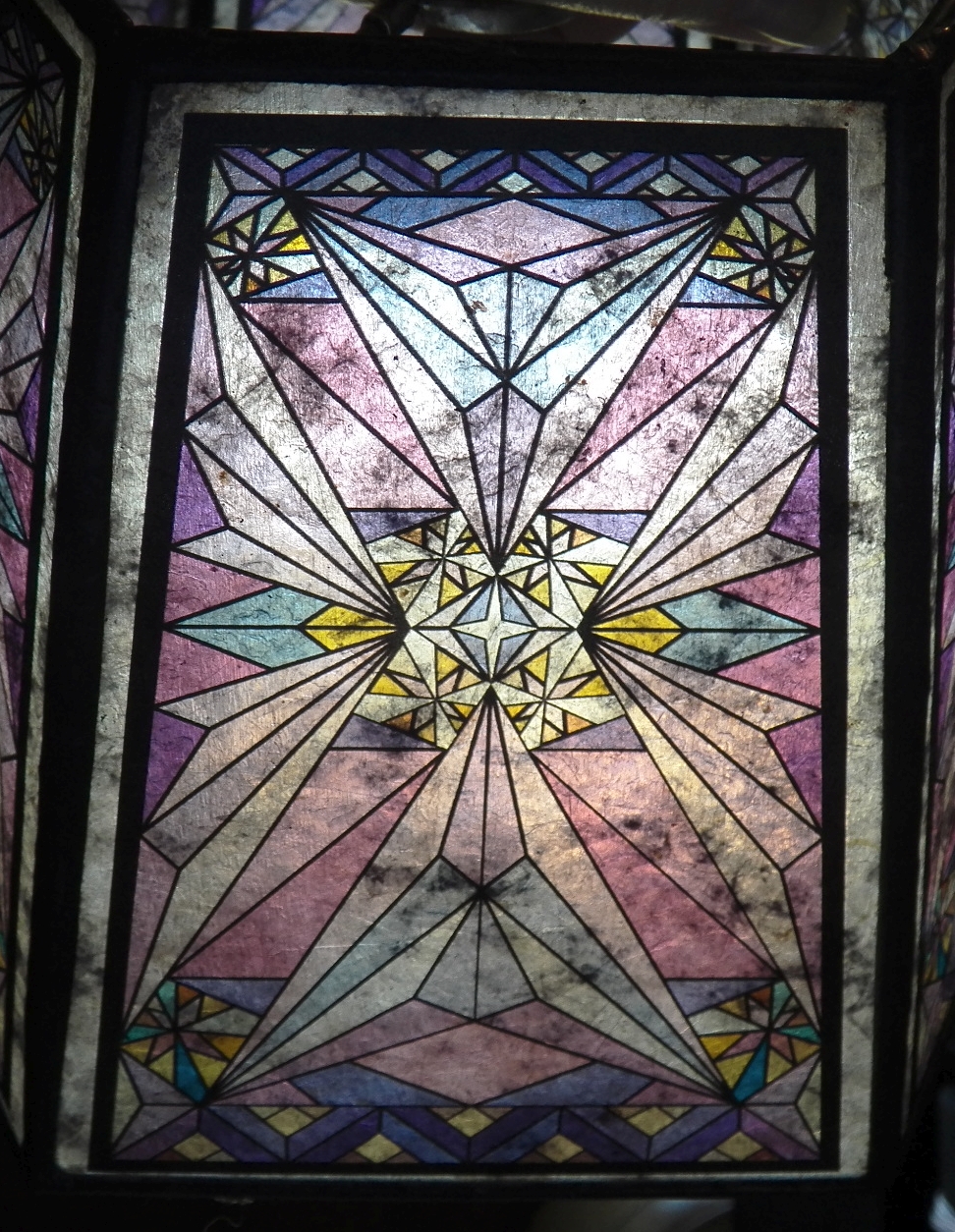 On Reggie's Lamp :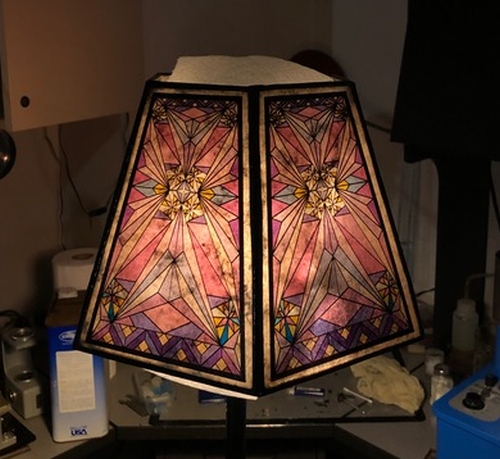 May 20, 2021
We love the shade it is perfect.
The lamp has been in my family my whole life.
We never had a mica shade and could not find an appropriate one since they changed lamp styles.
It never occurred to me to look up vintage shades!
We found rayon cloth covered wire that is also like the wires i grew up with. It completes it.
Thank you very much.
Louise
My Scalloped 8 sided fitter shade and Acorn pull socket set.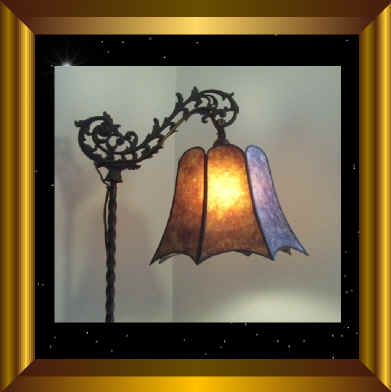 May 20, 2021
Arrived safe. So beautiful. It's perfect. Thank you. I'm looking for more lamps that need your touch.
Daniel
Jack O'Lantern shade and Socket Set
May 18, 2021
Dear Nan,
The the shade is absolutely beautiful and the light it casts is soft and warm. We love it !
We will be ordering a table lamp shade next month.
Thank you for the shipping rebate.
Best regards,
Linda and Bob
My Flat Top Majolica 1 Mica Lamp Shade
May 14, 2021
Hi,
I just wanted to let you know how much we like the
scalloped 8 sided mica shade. It fits perfectly on
the antique floor lamp we found in a salvage place!
You do beautiful work!
Holly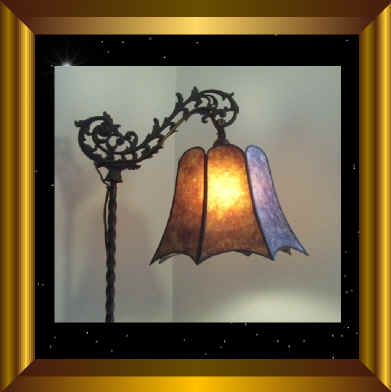 May 5, 2021
Thank you!!! It's absolutely beautiful!!
Megan W.
My UNO Hex Deco Rainbow on Natural Amber.
April 28, 2021
All is well... looks lovely.
Many thanks.
Mary Kay, another happy customer
My Jack O' Lantern
April 13, 2021
This shade is perfect! Absolutely beautiful! Thanks so much
Jenifer
My Plain UNO Hex in Natural Amber
April 8, 2021
Looks great - it's a keeper!
Thank you for all your effort,

Kaz

My Daum Hex in Silver Mica
March 25, 2021
Hi Nan...I just wanted to let you know the shades arrived
today in good shape. Thank you so much for both.
They are fabulous!
Cheers,
Noreen
My Tulip Fitter in Light Amber Mica
Use 15w - 25w bulb
March 19, 2021
They look beautiful, thank you so much !
I look forward to working with you again some day,
Katie
4 Cylinders in Light Amber
Use 25w - 40w conventional bulbs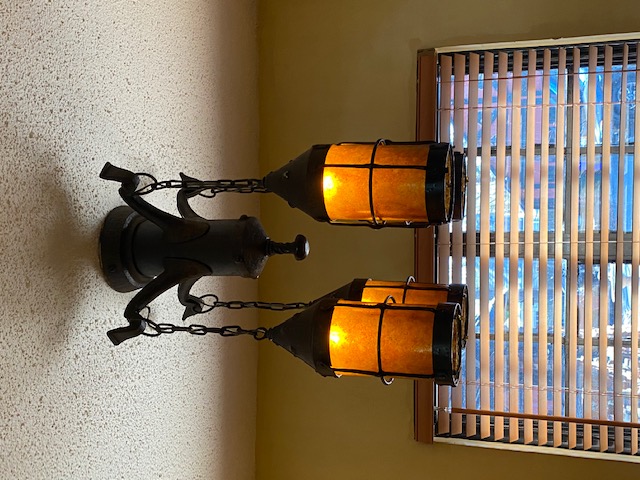 March 4th, 2021
Thank you for the beautiful shade! It goes perfectly with my floor lamp and it is a work of art!
Doug

My Scalloped 8 sided Fitter Shade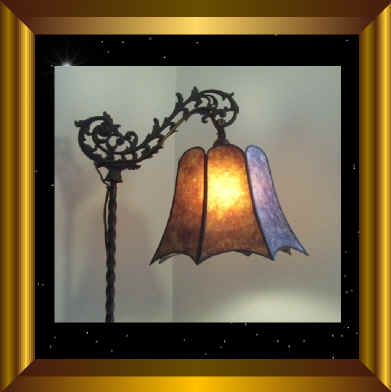 March 4th, 2021
Hi Nan,
I just received the shades yesterday. They are amazing! Much better than the photos online. Thanks for such a wonderful product.
sincerely,
Peter Murphy

Frog & Pond Lily Shade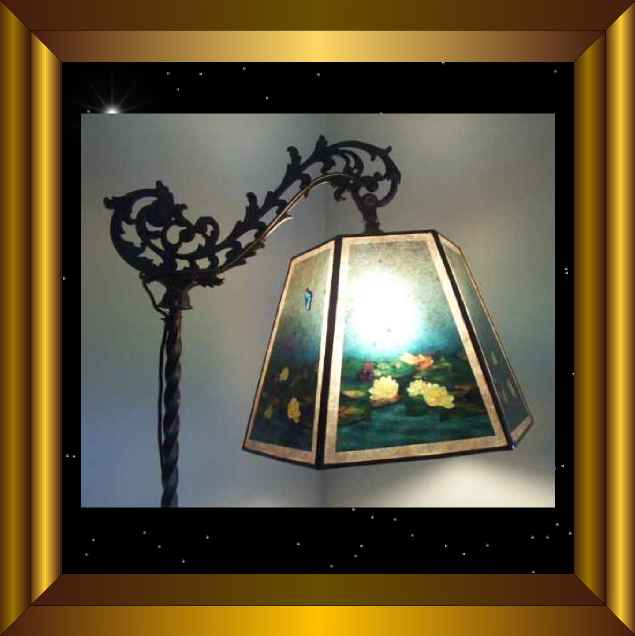 February 21, 2021
Jason R.
The jack-o-lantern shade you made for me is lovely.
Jack O'Lantern with Nouveau Bell Flower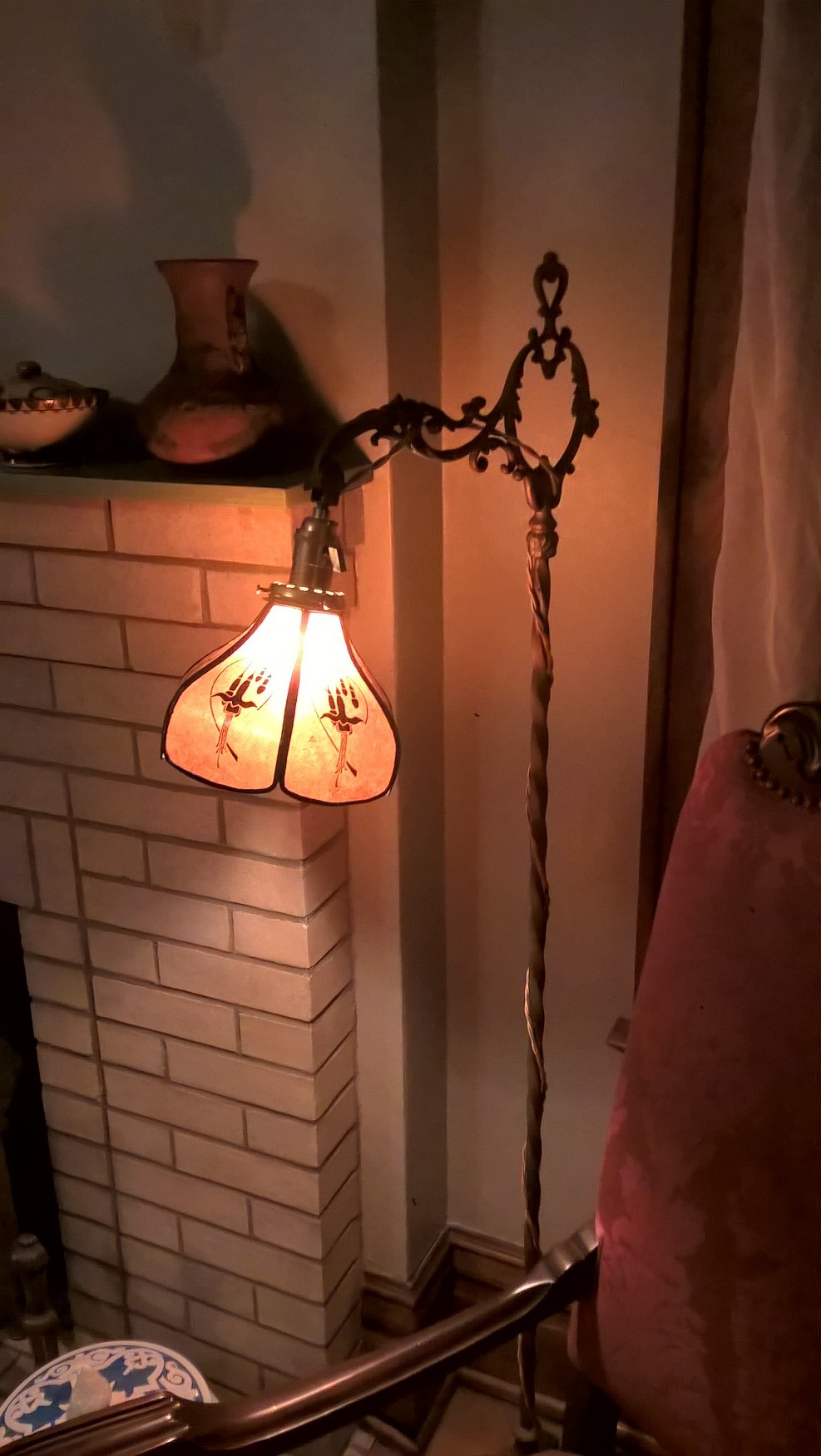 January 26th, 2021
From Joan :
"Thank you!? It's perfect! "
UNO Hex Light Amber with Deco Design 2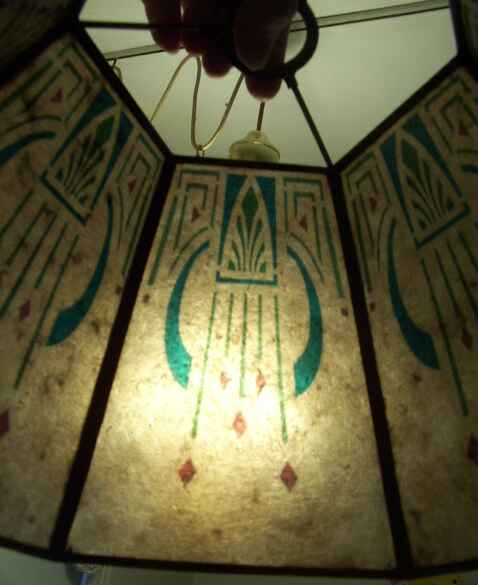 Thank you so much everybody !
Here's to 2021...
HAPPY NEW YEAR !
Well Well, I'm on Worth Point , again :o)
It's my Deco Rainbow Shade
And again, my NewVic2 hex shade...
December 27th, 2020
The shade is exquisite... Sooo glad to have been able to have you make it for us! The lamp is the only one I have ever seen like this, adjustable height on a rope cord. I have a few more different styles of bridge lamps yet to restore for the daughter and daughter in law. I hope to have you make the shades for them also.
Your craftsmanship is wonderful.
Thanks again,
L.H.
NYM Arts 8 Sided Scalloped Fitter Bell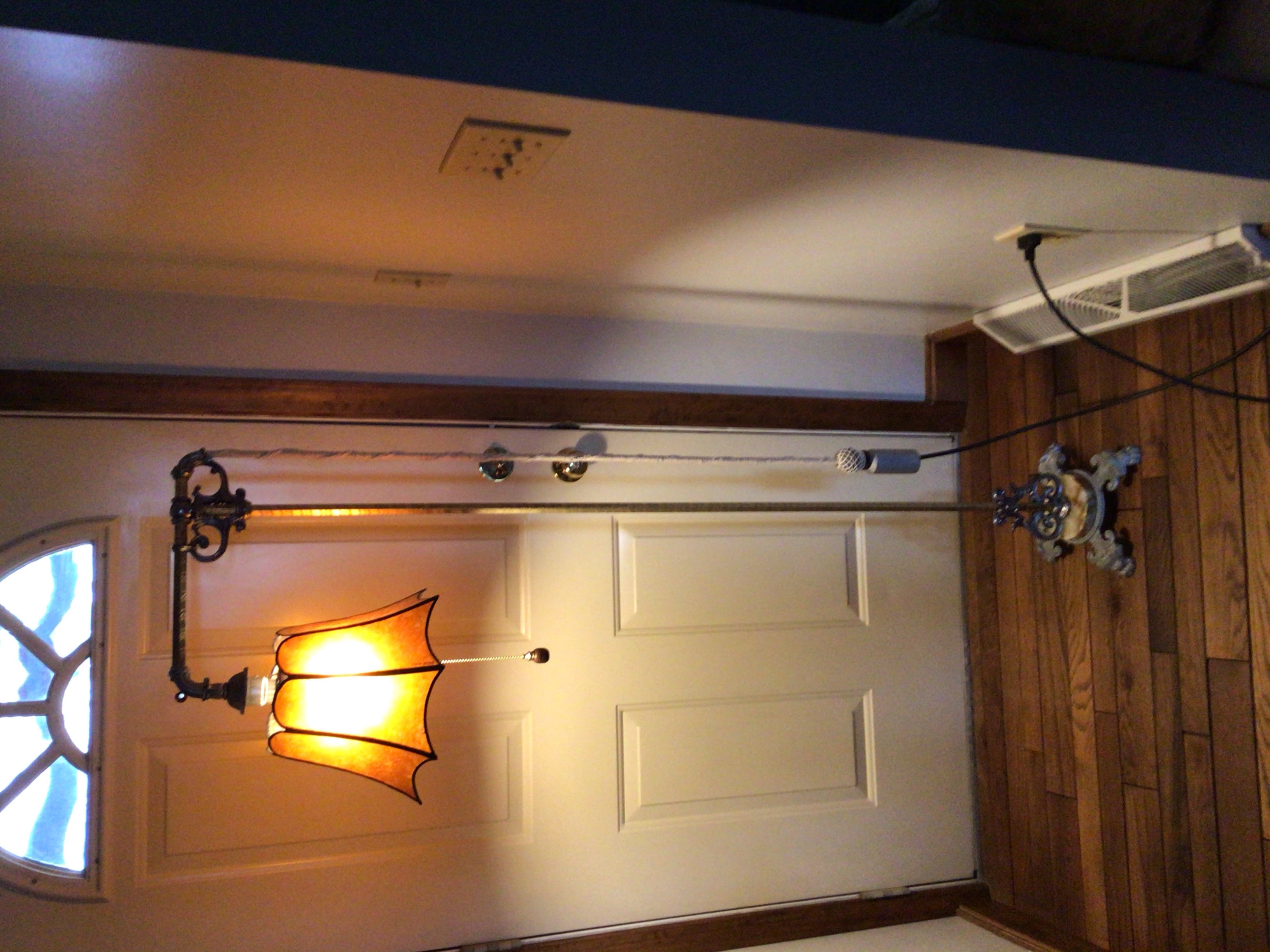 December 14th, 2020

Hi, there, Nan!

I just wanted to drop you a line and tell you how beautiful the shade is that you made for us. 
I'm sending along a picture of it on the bridge lamp that I just completed a sensitive 
restoration of.

Happy Holidays to you and yours!

—Dan & Erin
My Jack O'Lantern in Light Amber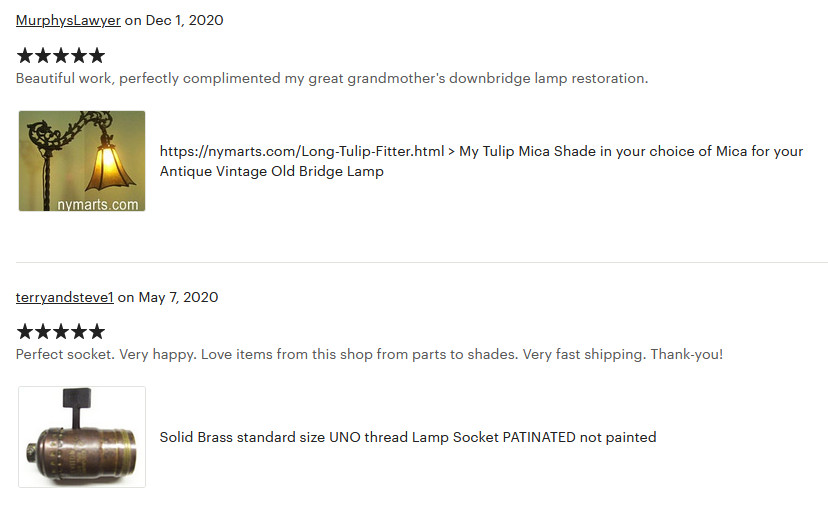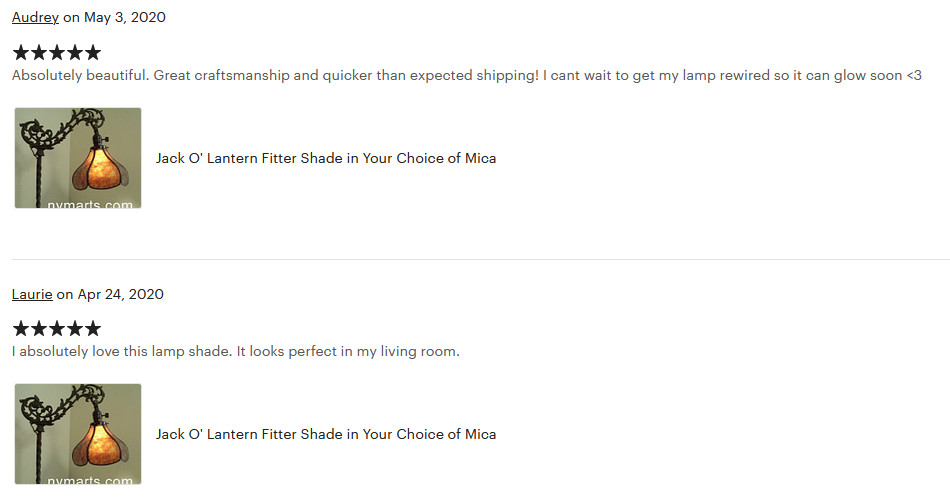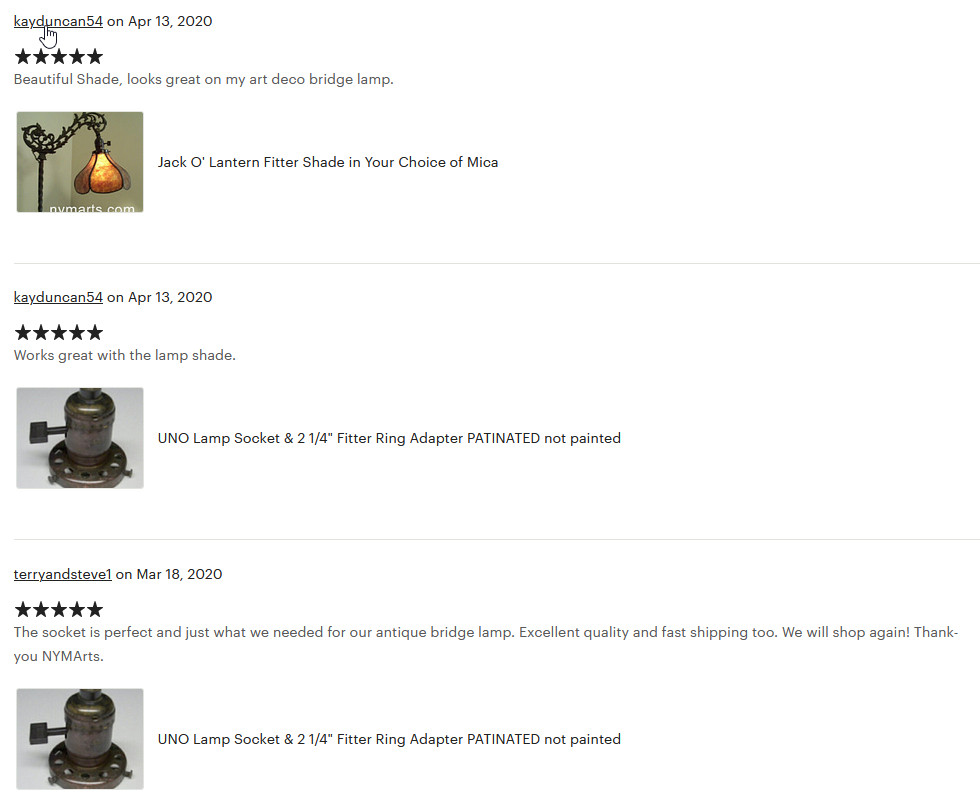 Here's the latest in a Long Line :
2020 ALREADY !
Thanks Everyone !
Looking forward to meeting more of you this year :o)
It's 2018 ....too many endorsements to fit on a page :o)
My sincere appreciation to all my clients....
Meanwhile, more endorsements, more shades, more happy clients :o)
Jan. 2016
April 25, 2014
I received the light this morning and am very, very pleased!
You did a really nice job, very happy with it.
Thank you so much.
Charlie H.
April 2, 2014
Hi Nan,
I just recieved my shade and I can say....AWESOME ! ? ! ? ! ? !
It's absolutely perfect for my floor lamp and well worth the wait !
Diane S.
February 19, 2014
Nan,
The lamp shade arrived this evening.
I just wanted to let you know how very pleased I am.
The craftsmanship is superb and the shade fits beautifully!!
Also, the coloring of the mica is a perfect match to the original shade.
I'm just so excited -- I will now be able to enjoy my treasured
lamp for many more years to come.
You do beautiful work :)
Thank you so very much!!
Becky
May 4, 2012
Hi Nan,
I just needed to let you know how happy I was
to receive the shade today. It's amazing! I am blown away!
It's absolutely perfect. The quality is just incredible
and the price was so reasonable, too. I think you'll agree that it looks great with the lamp base. You are a true artisan.
Thanks so much!
D.L.
Custom Gingerbread

May 1, 2012
Hi Nan,
I received the shade today and am extremely pleased.
Thank you again for your prompt service. I'll be back again.
Frank - 10 Point
Canada
April 11, 2012
Hi Nan
Here are the photos.....finally!
Thanks again
Tom
April 10, 2012
Hello Nan,
Thank you for your fine work ...
and a very nice touch - the shipping
notification arrived this morning
and the shade arrived late morning - outstanding!
I enclosed pics of a new base I just purchased - a tad better than the one I purchased earlier I think you'll agree.
Thank you!
p.s. ... I'll be back with another custom soon...
Baron K. Nealy
March 14, 2012
I love the shade!
Thanks for your beautiful work.
I really appreciate it!
Best wishes,
Janet King
March 1, 2012
Nan,
Just want to share these pics with you.
I think the shade is a perfect match to the base (an old miller).
Lovely.
Thanks so much!
Ping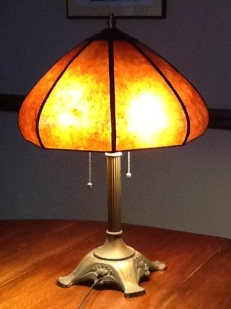 Sep. 12, 2011
Good Morning Nan,
Thanks for doing all the shades (9) so quickly. They look great on our antique lamps.
My big problem is I want to take them all home.
Have a good week.
Tom
Aug. 5, 2011
Nan,
Received the shade and put it on our old bridge lamp.
It is so beautiful! I can't tell you how delighted I am with it.
You have a wonderful sense of form and the workmanship is extraordinary.
So glad I found you. I had been searching for a shade for a long time
and had gotten quite frustrated. So glad I didn't just settle for a silk shade.
Thanks again for your artistry.
Kate
July 28, 2011
HI Nan,
This shade is HAPPENING!!!
Wow. It's nice to see craftsmanship is not completely dead in our country.
All the best,
Bernie
Cove Corner
Jun 21, 2011
Hi Nan,
I wanted too let you know that I received your Custom mica shade and love it.
Thank you,
Rick
NYM Arts® 2004 - 2022
All Rights Reserved